September 27, 2023
Our new release is starting ! "sounds and seasons of hyakunin isshu" is out exclusively on BandCamp and in physical form as CD. We will be releasing it on all sreaming platforms until the end of the year…
Find us on BandCamp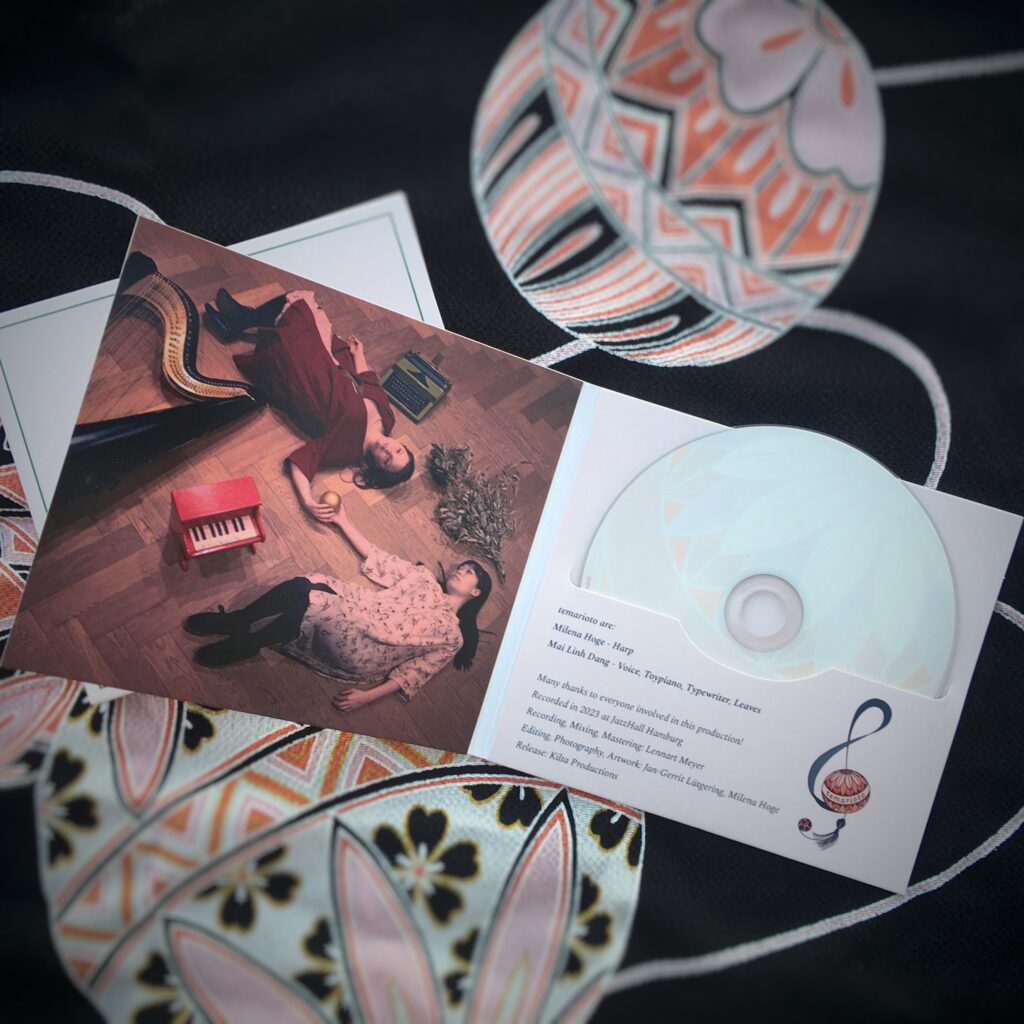 August 17, 2023
temarioto at the reception of "Deutsch Japanische Jugendgesellschaft"
Japanische Botschaft, Berlin
July 29, 2023
Private Event
July 28, 2023
Concert at Sushi Berlin
20.30, Knesebeckstraße 88, 10623 Berlin
July 08, 2023
Concert at the "WuWei Schule für Tai Chi und Qi Gong"
18.00, WuWei Othmarschen, Hamburg
temarioto played an atmospheric and intimate livingroom-concert for the lovely people at the WuWei school for Taiji quan and Qi Gong. They even put a little Video together where you can get an impression of the atmosphere (YouTube Link below 😉
https://www.youtube.com/watch?v=vqR6df6b-rc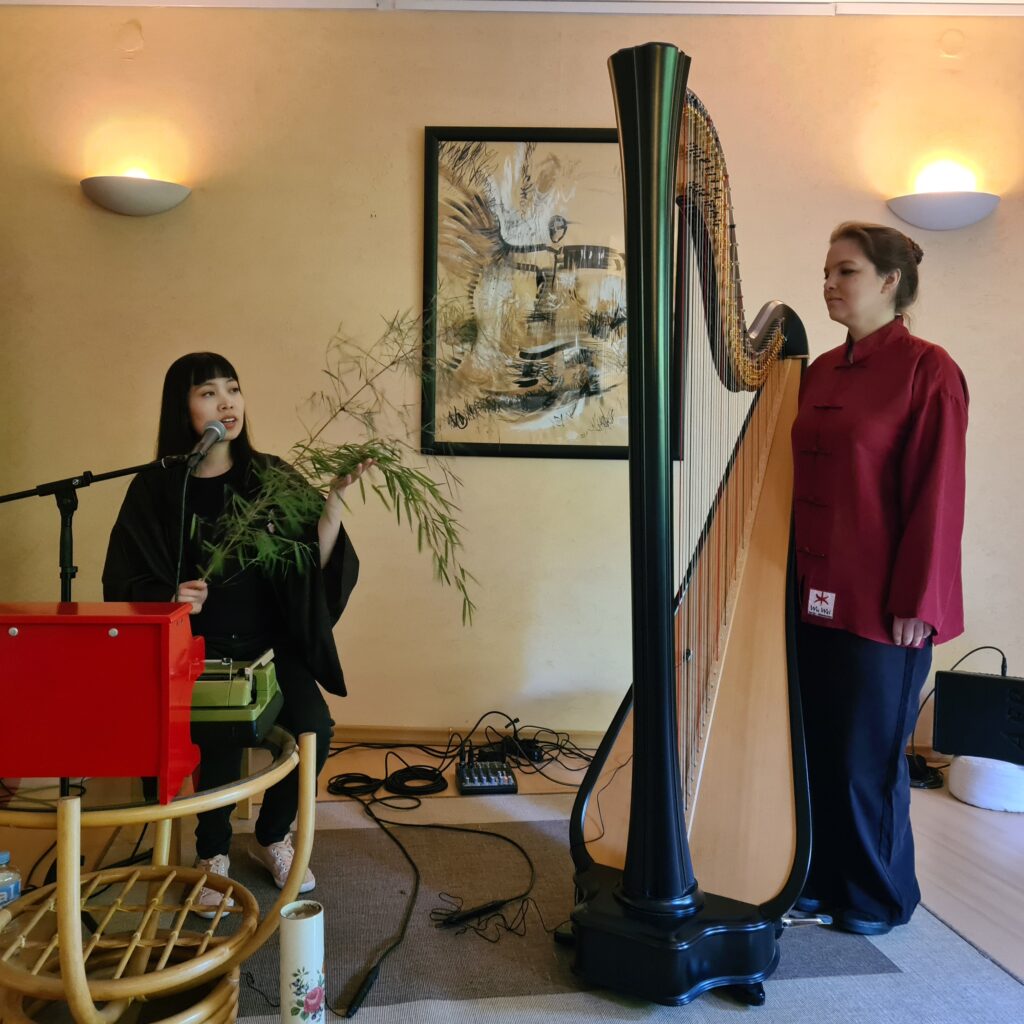 July 02, 2023
Concert at the gardenconcert series "Klang des Sommers"
18.00, Hemmingen
May 09, 2023
Concert for the Oscar and Vera Ritter Stiftung at Mozart Säle, Hamburg
Mai Linh and Milena have both been scholarship holders of the Oscar and Vera Ritter Stiftung. It felt very special and meaningful to perform as temarioto for the Foundation!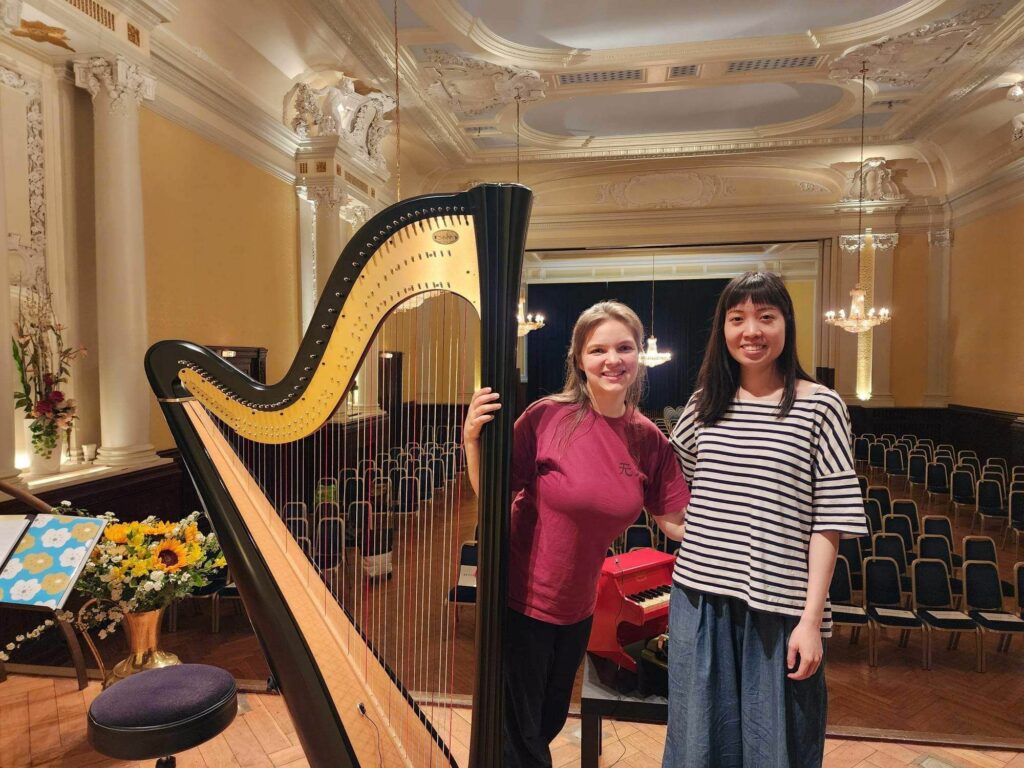 April 15, 2023
Poem No. 33 of the 百人一首 (Hyakunin Isshu – 100 Poems by 100 Poets), Japanese poems of the 13th century
Painted by a very talented student of Jissen Joshi Gakuen, Tokyo, who gave us permission to share this. Thank you very much!
Can you imagine how beautiful the cherry blossoms must be over there right now?
It's the first song of our cycle… Spring is here and our release of this is coming soon.
"In the peaceful light
Of the ever-shining sun
In the days of spring,
Why do the cherry's new-blown blooms
Scatter like restless thoughts?"
(Ki no Tomonori)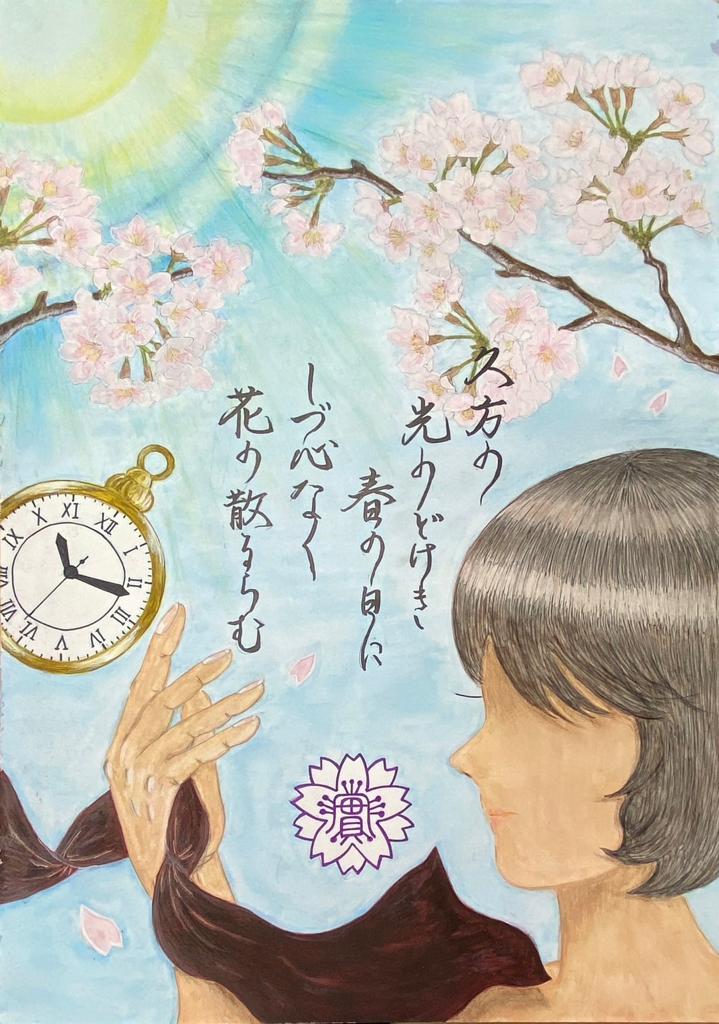 April 15, 2023
Concert at Sushi Berlin
20.30, Knesebeckstraße 88, 10623 Berlin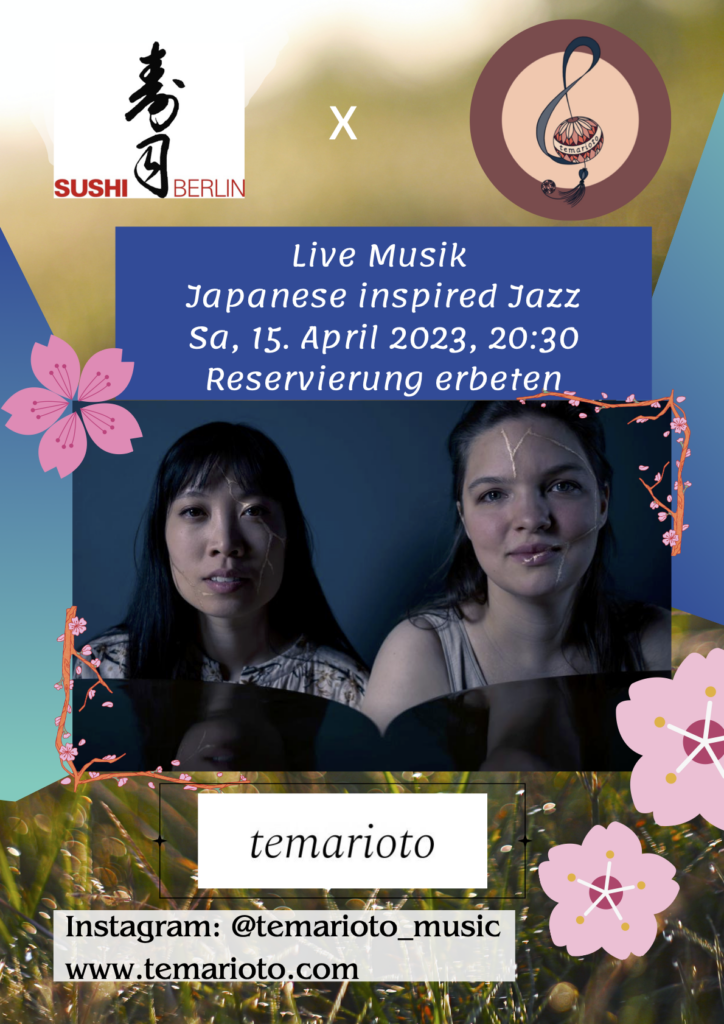 February 12, 2023
temarioto had the honour to perform some of our pieces to poems from the Hyakunin Isshu at the "Museum für Kunst und Gewerbe" (MK&G) in Hamburg. And not only in the museum but in the collection in front of japanese woodblock prints of these very poems we set to music – that was an amazing experience!
January 07 an 08, 2023
Exciting work in progress! We did an intensive studio recording of our Hyakunin Isshu cycle that will be released later this year. And we had the opportunity to shoot some new temarioto band photos as well…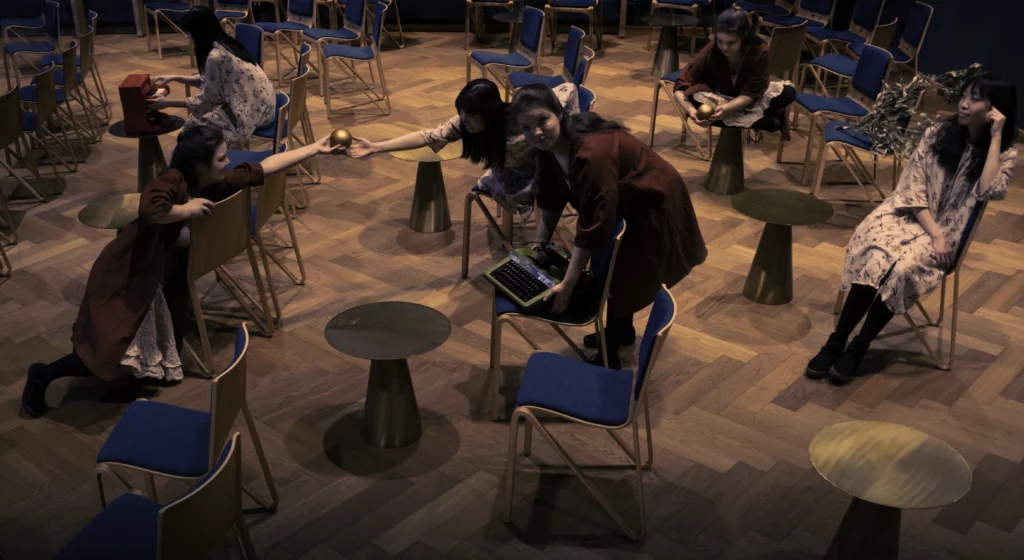 December 06, 2022
temarioto had a very lovely evening playing for the reading of Haiku, Tanka and a short story by Sabine Sommerkamp-Homann at the "Teehaus Große Wallanlage" in Planten un Blomen, Hamburg.
Thank you so much to Sabine Sommerkamp-Homann for inviting us and allowing us to share some gorgeous impressions of the event, that the wonderful Florian Driessen from Facettenfilm captured. The reading was hosted by the AWO and the "Hamburger Autorenvereinigung".
September 29, 2022
We shared a first music video of our own making on YouTube – "Crane Fly". A lot of creative work and learning by Mai Linh and Milena went into this project to make the recording, filming and animated effects possible. And we are very happy with the result 🙂
October 28, 2022
Milena, temariotos very own harpist, was awarded the promotional award of the SummerJazz Festival in Pinneberg. It was a blast to perform our cycle of pieces on poems from the Hyakunin Isshu at "Jazz im Foyer" as an awards-concert.
August 14, 2022
It was so beautiful to play a sunny garden-concert near Hanover in the lush greenery of natures full summer bloom!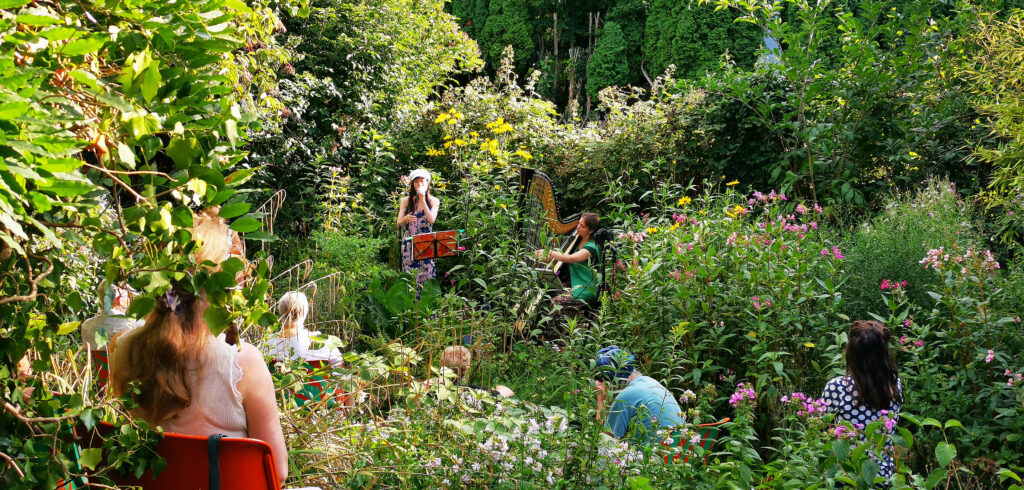 June 14, 2022
We had a fun evening presenting our music at a pop-up performance space in an empty store in the Mercado Center Hamburg Altona. This very special concert was hosted by the Altonale Festival.
Many thanks to "Sommer-in-Hamburg" for sharing a taste of our performance!
April 27, 2022
temariotos first concert playing our original music with japanese lyrics at the JazzHall Hamburg.